Sunday, May 7, 2017 - A WHALE OF A THANKSGIVING
Bro. Arman Pacanas
May 7, 2017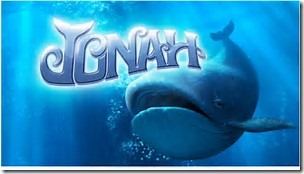 TEXT: Jonah 2:1-9
Jonah 2:1-9 (NIV) - 1 From inside the fish Jonah prayed to the Lord his God. 2 He said:
"In my distress I called to the Lord, and he answered me.
From deep in the realm of the dead I called for help, and you listened to my cry.
3 You hurled me into the depths, into the very heart of the seas, and the currents swirled about me; all your waves and breakers swept over me.
4 I said, 'I have been banished from your sight; yet I will look again toward your holy temple.'
5 The engulfing waters threatened me, the deep surrounded me; seaweed was wrapped around my head.
6 To the roots of the mountains I sank down; the earth beneath barred me in forever.
But you, Lord my God, brought my life up from the pit.
7 "When my life was ebbing away, I remembered you, Lord, and my prayer rose to you, to your holy temple.
8 "Those who cling to worthless idols turn away from God's love for them.
9 But I, with shouts of grateful praise, will sacrifice to you.
What I have vowed I will make good.
I will say, 'Salvation comes from the Lord.'"
I Thessalonians 5:18
"In every thing give thanks: for this is the will of God in Christ Jesus concerning you."
WHICH JONAH WAS THANKFUL.
I. IT WAS A DEEP PLACE (3)
How deep is your love to God
How deep is your prayer
How deep is your faith
We can all relate to the deep, difficult, and dark places of life.
It was a dark place.

It was a difficult place.
II. IT WAS A DIVINE PLACE (3)
Jonah 1:17 - "Now the Lord had prepared a great fish to swallow up Jonah."
Jonah 2:3 - "Thou hadst cast me into the deep"
HOW CAN I BE THANKFUL IN THE DARK TIMES?
TRUST
It manifest the Lord's care.
B. It manifest the Lord's control.
God Is in Control
God is the creator and controller of the universe and all that is in it, whether animate or inanimate. Any use or disposition He chooses to make of any part of His creation is His sovereign right. God is accountable only to Himself. He reports to nobody. He is not required at any time to give to any person any explanation for anything He says or does. He is the superpower above all powers in every area of His creation.
God "worketh all things after the counsel of His own will: That we should be to the praise of his glory" (Ephesians 1:11-12). Yes, God is in control.
III. IT WAS A DELIVERING PLACE (10)
Jonah 2:10 - And the Lord commanded the fish, and it vomited Jonah onto dry land.
Paul and Silas learned this truth in the Philippian jail (Acts 16:25,26). Praise and thanksgiving has a way of setting us free.
Praising has a way of setting you free:
Delivers from that which binds
Delivers from that which bothers.
CONCLUSION:
We Are Alive Today and Should Be Thankful
God has Brought Us Safely to This Day.
Let's Have a Whale of Thanksgiving,
TODAY, TOMMOROW AAND FOREVERMORE. AMEN