Message from the Minister's Desk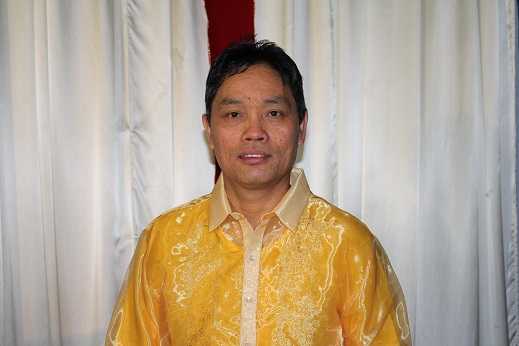 Pastor Roger Marcos
Church Minister
Forget who hurt you yesterday, but don't forget who love you every day.

Life is all about the little decisions you make every day. Decisions of the past have had their effect, but every new day can be a new start. No matter what has happened up till now, you have a chance to make the right decisions today.

"Remember the things I have done in the past. For I alone am God! I am God, and there is none like me. Only I can tell you the future before it even happens. Everything I plan will come to pass, for I do whatever I wish." - Isaiah 46:9-10

The 2015 was one of the most painful year never to be forgotten in my entire life time as it was my wife's death. I was totally down in every fiber of my body, the grief and pain of her death are unlike anything I've experienced – "felt everything is gone".

I do thank you fellow brethren, for your full support during the darkest moment of our life's struggle.

Yes, the path of the past year has ended. We can look back at what has passed and recall the happy moments, the unanticipated joys, the Good News that arrived like refreshing waters to a thirsty soul.

The past year have finally come to an end!

It's New Year the best way to experience a New Beginning.
IN THE TRUTH
Whether you're battling a tempting addiction or grieving an untimely loss, a key to embracing any new beginning is to stay grounded in truth — God's Word. Without a foundation of truth, we are prone to fall prey to lies that increase our pain and keep us from growing and moving forward.
ENLIST OTHERS FOR SUPPORT
New beginnings are best faced in the safety net of caring and competent Christian friends. God is relational. Jesus was not a lone ranger. He was surrounded by His inner circle of disciples. We too will find support, encouragement, and help from others who have experienced similar circumstances.
APPROACH GOD BOLDLY
We have the amazing opportunity to approach our heavenly Father with boldness and confidence. In the Psalms, David gave us the perfect example of how to cry out to God in every conceivable manner, even in our anger, in our anguish, and in our anxiety. We need not face anything without God's help. We can go to Him boldly, because He tells us we can.
NEVER GIVE UP
Remember no matter what our present circumstances may look like, no matter how difficult letting go might be, with God, we win at the end. It may appear that we are losing, but ultimately, goodness and glory can grow in the midst of a new beginning. We must keep our eyes focused on our Leader, and remember to keep putting one foot in front of the other until we cross the finish line.
OVERCOME OBSTACLES
When we're in the midst of letting go, we can find ourselves burdened by a barrage of obstacles — things on our path that can keep us from walking through the door of a better tomorrow. Feelings of grief and heartache can be part of the new beginning process. Lingering negative feelings and thoughts can become obstacles that keep us stuck. With God's help and the support of others, we can continue forward, getting rid of whatever holds us back.
NEUTRALIZE THE ENEMY
The Bible is very clear that we, as Christians, have an enemy. This enemy of our souls would like to destroy us and keep us from accepting God's plan for our lives. We can disarm this devil by UTILIZING THE ARMOR that God so generously provides. Put on the armor daily.
GO FORWARD WITH GOD
This is much like "don't give up." New beginnings can be scary and we can find ourselves paralyzed, afraid to take another step. We don't need to continue by our own power. In fact, our limited human power won't be enough, but with God, all things are possible. Allow Him to lead, as you lean on Him.
OPEN YOUR EYES
Take a look around at the beautiful surroundings that surrounds you on your journey. As you embrace your new beginning, you will discover the wondrous ways God is working in and around you. God is present, even in your darkest hour. If you open your eyes, you can see His light.
DECIDE TO WORSHIP
Praising God in the midst of any situation brings blessings far beyond our greatest expectations. When we experience freedom from bondage or an addiction, it is only natural to praise our Deliverer. But when a new beginning is the result of loss, worship may seem out of place, but consider Paul, praising God from within his prison chamber. Worship touches the very heart to God, and in turn He will touch ours. Worship God and expect the best.
Lean on God and expect one glorious new beginning after another. Each new day we can be filled afresh with the power of the Holy Spirit who will help us in our new beginnings.
Therefore, my dear brothers and sisters, stand firm. Let nothing move you. Always give yourselves fully to the work of the Lord, because you know that your labor in the Lord is not in vain. - 1 Corinthians 15:58
A negative mind will never give you a positive life.
God bless,
Roger Marcos
NYCC Minister